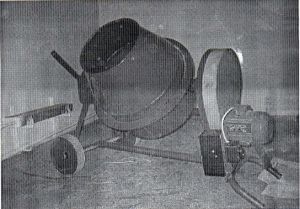 General capacity of a drum - 120 L.
Output of finished goods - 60-80 L.
Time of preparation of a solution - 5 minutes.
Drive - an electric motor. (0.55-0.75) kW. 1500 cycles/minutes
Voltage - 220 V(380 In under the order)
Weight - 60 kg
Dimensions: 920 mm x 730 mm x 1230 mm
The price - $350 USD

The additional equipment:
auger feeders weighing material;
tensor gauges;
Computer;
The bunker;
stockade;
The distributing machine;
Cuting equipment.
At the request of the customer we make concrete mixers and concrete mixer any sizes on a contractual price.

Into structure concrete mixer enters::
Capacity, thickness of walls of 4-8 mm;
Shaft with rubberized blades;
Reducer;
The electric motor;
Control panel;
Adjusting platform (under the arrangement);
Wheels for movement (under the arrangement).