RUSSIAN

WHAT IS FOAMISOL ?

Foamisol (unipour) – is a light, cheap and fire-safe material compared to cellular polystyrene, for instance. It can be manufactured right at the construction site, which allows avoiding transport expenses and material losses while transporting. Plates (blocks) of the given thickness can be produced from it or it can be poured into hollow profiles of three-layer frame fillings, where it is polymized and dries out under regular conditions.

Foamisol possesses improved physical-engineering, environmental and operating characteristics. It is produced from foam compound, which contains polymer resin (urea-formaldehyde resin), foam former, curing agent (acid), also modifiers improving physical-mechanical characteristics. The production method is a non-compression one without heat treatment.

High physical-engineering and operating characteristics of foamisol (unipour) are first of all stipulated by up to 90% of gas phase contents, by its chemistry, initial components proportion, and its technology and production schedule.

On the basis of the experimental data, obtained in durability tests and exploitation experience of similar polymer materials in civil engineering, it can be guaranteed that predicted service life of foamisol (unipour) for buildings vertical constructions will make 35 years as minimum (which cannot be said, for example, of mineral wool).

PHISICAL-MECHANICAL CHARACTERISTICS OF FOAMISOL

Physical-mechanical characteristics of foam plastic correspond to the following requirements:


Indexes
Measurement unit
Value
Consistence
kg/m3
8 - 30
Thermal conductivity
W / m х С
0.035 - 0.047
Ultimate strength:
Under compression (under 10% of linear deformation)
kg/m2
0,07 - 0,5
Under flexion
kg/m2
0,1 - 0,25
Under stretching
kg/m2
0,05 - 0,08

Foamisol inflammability was also tested in the Centre for Fire and Thermal Protection Research. It was discovered that by four specific parameters it belongs to the hard-inflammable material group, due to:


Average temperature rate of smoke fumes;
Maximum temperature rate of smoke fumes;
Independent burning duration;
Damage rate of patterns in foamisol mass.
Thus, activities undertaken to create environmentally safe new generation of urea-formaldehyde foam plastic enabled to recommend for sale in Ukraine as heat insulation material of medium layer of frame fillings for dwelling and industrial construction.

Scheme of insulating module for conduits of O 229 - O 1520 mm: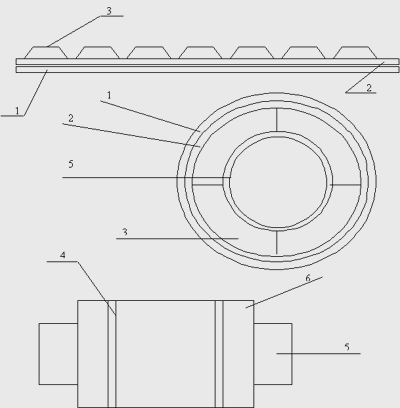 1. Waterproofing mastic
2. Glass fabric
3. Heat insulation module
4. Bracket
5. Tube
6. Module

The suggested heat insulation construction belongs to the most progressive insulation material types among the existing ones. Heat insulation constructions are delivered for mounting in a ready-made form bearing two fixing rims. Along the cylinder longitudinal split and one of its flanks, there is 40-50 mm protruded cover layer aimed at making an overcloak when placing on conduit. You are only to fix the construction onto conduit.

Heat insulation construction is composed of the following elements:

Basic heat insulation layer, which ensures normal performance of insulated surfaces according to heat insulation requirements;
Cover layer, which prevents basic heat insulation layer from atmospheric precipitation, mechanical damage, active medium effects;
Fixing elements, which are used to fasten insulation onto an insulated object.

Heat insulation variants (depending on heat carrier temperature):

Variant 1: from -50 to +90

Variant 2: from -50 to +120

Our advantages:
You get a ready-made mounting element;
Mounting time is reduced to the minimum;
Delivery set contains festening elements for maintaining heat insulation onto conduit.

Delivery of elements with a cover layer for preventing mechanical damage and hostile environment.
Our element cost is lower compared to polyurethane analogue by 20-30%
Heat insulation layer used is fire- and environmentally safe.